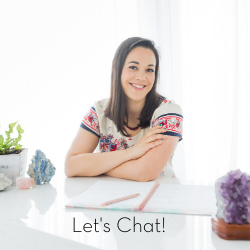 "Great services. Life changing. Let go of the emotional weight I had been carrying for years. I committed to the Coaching Program and enjoyed each session, lesson and understanding. Result: weightless."
– Natalie Gould
"I had a Strategy Session last week with Anik regarding a new business project. I'm amazed at the difference since that call! I am able to focus so much better and the ideas are just flying! I am so impressed!"
– Lori Andrews – East Coast Coaching
" I am conquering fears that before had left me paralyzed, taking control of my autoimmune disease, and trusting that my life is my choice. And now learning that my life can be filled with joy and ease, and miracles surround me and all of us daily."
– Angela Holden
" Anik always helps me clear the crap that piles up in my mind and spirit! If you need some help dealing with anxiety, worry, fears, or lots of other things that us entrepreneurs deal with, Anik rocks!! Thanks for your help!."
– Kim Eagles – Author / Khaos Solutions
" Anik is a master of coaching. She knows how to guide you through your hardest moments with joy and ease. As you release your blocks, and all the junk that is standing in the way of you living in your best life, you laugh with humour and fun she uses in the moment. I couldn't recommend a better guide."
– Shannon Edgett – Spirit Fox Wellness
" Anik intuitively hones in on the subconscious beliefs holding me in stuck states and releases them… Anik's warm non-judging and humble manner allowed me to be open and receptive… Most amazingly to me is noticing a situation with an anticipated reaction and realizing it has shifted…no reaction!! Fears of moving forward are no longer there. Eternally grateful for Anik's abilities and guidance."
– Nancy C.
" Anik is amazing! She helped me identify what was holding me back and work through it. I am now more self-aware and self-confident thanks to her gift and guidance. I am now following my dreams!"
– Angie Beaulieu, RMT
"Working with Anik is like a power wash for my soul. She collaborates with me to quickly clarify the fuller picture and my underlying beliefs…
– Marion Freiberg
"Feeling blessed to have completed a six month coaching deep dive with Anik… My energy and manifesting skills have been super charged! Loving life!"
~Angela Mitchel
Private Coaching
Are you ready for real change?
Is your hunger greater than your fear?
Are you on the cusp of a breakthrough, unsure of what's next or how to get there?
I will meet you where you are, but YOU must courageously commit to your true potential and wildest dreams.
I refuse to settle for less, and so should you! My focus is to make the most significant impact possible, and with time being our most valuable resource, I intend to make the most of every moment!
My soul clients recognize how precious each moment is and are not prepared to live one more minute on the sidelines. They are committed growth seekers, eager for powerful, lasting transformation – not a quick fix that doesn't stick.
I help leaders, visionaries, and change-makers connect to their inner wisdom and unleash empowered authenticity so they can be the catalyst of change they desire to see in the world.
My 1-1 time is dedicated exclusively to offering 360° deep-dive programs to accelerate the expansion of the self.
Authentic expression is your power position; through empowered self-mastery, I can help you embrace and embody it! It is your vehicle to peace, a place of love, your foundation to achieving your dreams; and an abundance of the good stuff!
I am still accepting a limited number of dedicated growth seekers into my private practice.
Is this you? Here's what's next:
Book your Strategy Session, and gain the clarity and guidance you need to move forward.
What to expect:
Your strategy session will bring clarity and be a powerful catalyst to kickstart your growth journey. Here's what to expect from our time together:
Strategy Session Agenda:
Explore goals and aspirations.

Identify challenges/obstacles and the best approach to overcome them that works for you.

Define clear, internal quantifiers that are meaningful for you as powerful milestones as we move towards your goals. 

Build a strategy to move you forward that meets your needs 

And addresses challenges/obstacles weighing you down and holding you back from achieving your intentions.
" Beautiful Anik! My Strategy Session with you left me feeling so inspired and ready to step into the next best version of myself! As always, I felt welcomed, encouraged and supported. Thank you for the invaluable insight and guidance you offered on our call. I'm beyond excited to see what this next chapter will bring!"
~Anne Marie Murphy
N.B. For the casual improver, who's not ready to take the leap into their desires, I have lower commitment options to serve and support you.
Our Cancellation Policy:
Please provide 72 Hrs should you need to change or cancel your appointment, our cancellation fee is equilavent to cost of your session.